Start your day with Captain Bobby Byrd 6am-9am, Bobby has all the News, Traffic and Weather plus Today's Best Mix and Yesterday's Favorites from the 70's 80's 90's and Today to get your day started off just right Be sure to get your name in on the Birthday Club Too.
Got a Local Celebrity With a Birthday or Anniversary? Get Those in to Bobby Weekdays Before 7:10 at 706-226-0104 and He Will Give Them a Big Mixx ShoutOut! And On Friday, All the Local Celebs will go into a Drawing for the Delicious Great American Cookie Company Cookie from Walnut Square Mall! Yummy! So Let Us Know Who You Have Celebrating and They Could be Our Latest Mixx Morning Winner!!!
Captain Bob also dishes up all of your favorites from the 60's 70s and 80s on the Mix Midday Café from 11-to-1. Call Bobby to place your order at 706-226-0104. Don't be afraid to sing along or dance! (It's lunch time, you're not on the clock!) For dessert, you'll get two scoops and a waffle cone filled with everything you want to know about what your favorite artists from the 60's, 70s and 80s are doing now.  Think of it as happy hour at noon!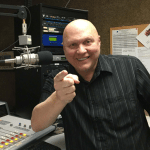 Mon-Fri | 6a-9a
Mon-Fri | 11a-1p