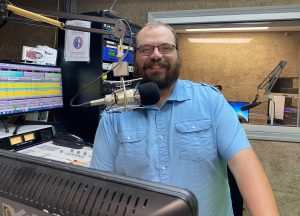 ---
Mid Days with Fariss from 10 to 2 PM!
Call the studio at 706-226-0104
---
"My love of radio started at a young age listening to the Braves games, long after I was supposed to be asleep.
I am born and raised in North Georgia, and graduated from North Murray High School in 2013. During my time there, I competed in several Public Speaking competitions furthering my love of talking.
I began my career in radio as a Freshman at Georgia Southern University, on their campus station. I hosted a music show, and also worked with their weekly sports talk programming. I did play-by-play for the Georgia Southern Campus Station, and eventually was hired full time by a radio group there.
When I am not on-air, I love editing music, spending time with my wife and daughter, going to Braves games, and being outside. I am overjoyed to return home, and do what I love on a station that I grew up listening to!"